Hi everyone!
I hope you're all suitably excited for the upcoming *free* DLC, Wargroove: Double Trouble! We're getting closer to the stage of being able to announce a release date, but in the meanwhile let's get you better acquainted with the voice talent behind Double Trouble's new Commanders. You'll soon be hearing their fantastic taunts and warcries on the battleground. If you want a reminder of the original Wargroove voice cast, you can find out more in our previous Role Call blog.
—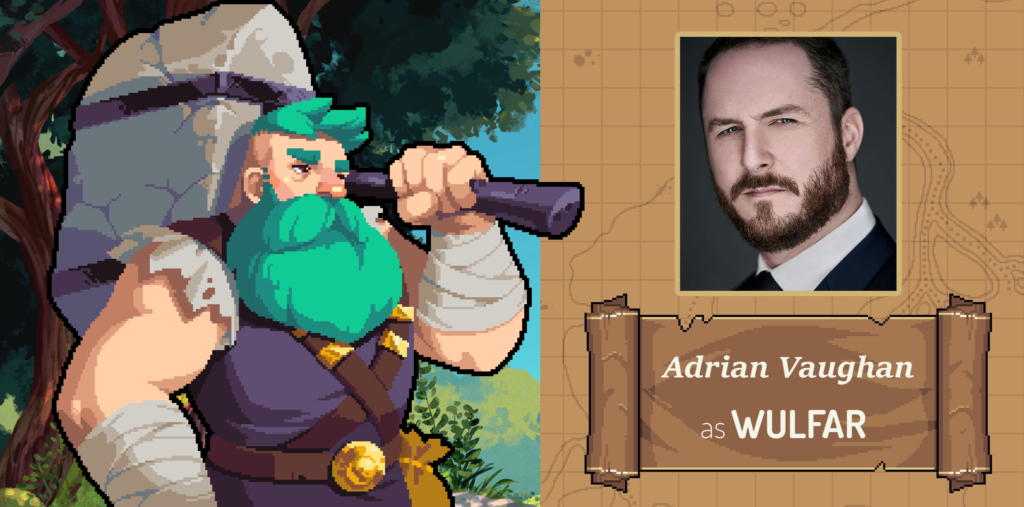 Adrian Vaughan as Wulfar
Adrian has lent his voice to a rag-tag collection of characters in video games such as Crawl, Armello, Paradigm, Budget Cuts 1 & 2, and the upcoming adventure titles Harold Halibut and The Drifter. He's also appeared in a handful of award-winning competition titles he's quietly proud of, plus some radio/TV commercials. When he's not doing his best to be all kinds of sinister or gruff, Adrian spends his time writing bios in the third person – 'cause nobody else will.
Website – Twitter – YouTube
You can find out more about Wulfar in this Character Spotlight.

Eileen Montgomery as Errol
Eileen "EileMonty" Montgomery is a voice actress, singer and YouTube entertainer from the UK. Some of her most well-known roles include Mustache Girl & Queen Vanessa in A Hat In Time, Winter in Regalia: Of Men And Monarchs, Nikki in Sprint Vector, Lady Tethys in Dust: An Elysian Tail, Lady Shera in Love Esquire, Boo Qi & Black Widow in Hauntsters and Nereid, Potion Merchant & Additional Voices in Apotheon.
IMDB – Twitter – YouTube
You can find out more about Errol in this Character Spotlight.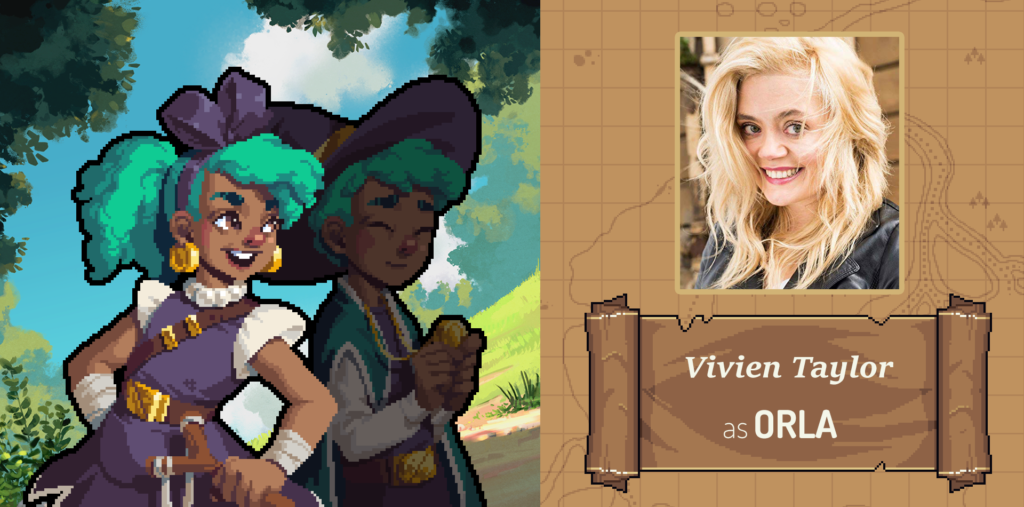 Vivien Taylor as Orla
Vivien Taylor is a Scottish voice, screen and theatre actress based in the UK. Orla is Vivien's first video game credit but she has voiced many female characters in CBBC's BAFTA- winning television animation series, OOglies Funsize. She has also appeared in movies such as Outpost: Black Sun and Outpost: Rise of the Spetsnaz, as well as acting and voicing commercials. Vivien has narrated audiobooks, playing Lavinia Whateley in the world's first audio movie, HP Lovecraft's The Dunwich Horror, which was awarded 'Best of the Fest' at the Edinburgh International Film Festival.
Website – Twitter – IMDB
You can find out more about Orla in this Character Spotlight.
Jessica Straus as Vesper
Jessica Straus enjoys a diverse career in voice-over and is honored to be on over 100+ games.  Although she has fans for many of her gaming roles, she is currently best known as Juri Han in the Street Fighter series, Amazon/Cassia in Heroes of the Storm & Diablo II (along with many other Blizzard roles), Dr. Hypatia in Dishonored 2, and many Japanese RPGs including Pi in .hack//GU, to name a few.
Website – Twitter – Instagram
You can find out more about Vesper in this Character Spotlight.
That's it for now. Don't forget that Wargroove's Deluxe Edition physical copy is now available to order online or pick up in good ol' brick and mortar stores for Nintendo Switch and PlayStation 4. You can also follow updates about Wargroove: Double Trouble and Wargroove in general on Twitter, Facebook, our forums, the Wargroove subreddit, and the wiki!
See ya!