Community Maps Spotlight #11
posted on
Happy Friday all!
What an exciting week it's been. We had the launch of the PlayStation 4 version on Tuesday, and also discussed a bit more about what you can expect from future updates of Wargroove, including a sneak peak of the new map editor tool 'gizmos' in action!
There's still plenty more to reveal this year, including the brand new content we currently have in development, as well as something else… But more on that soon!
Before we start, our congratulations goes out to Red-Jams, the winner of the community-run Groove of War tournament! The Grand Finals took place on Thursday night, with Red-James vs Vitto, streamed on Twitch by host GimbleB. A big thanks goes to the Groove of War tournament organiser team who did a fantastic job of running the sessions. If you'd like to find out more about competitive play or get involved ready for the next tournament, feel free to join the Groove of War Discord.
Alright, on with the maps!
1. Forgotten Island by MeowMeow – Code: R7FVVNXQ
This nicely arranged island archipelago map is designed for 1v1 play, connected by numerous bridges and book-ended by two Towers to support both ground and air unit play. We liked its simplistic design, based around a smaller map size to encourage fast play. The creator recommends trying out recruiting a few Balloons for easier movement around across the stretches of water.
2. Obstacle One by Bust Baby – Code: XTV6NV47
This puzzle map by Bust Baby is a great brain-teaser, with some false leads to try and coax you to down the wrong road.  Having some units (the Knight, Wagon and Spearman) locked behind gates poses an extra challenge that you'll need to resolve in order to take out Emeric in just one turn! Remember to use those crits and your Groove to your advantage…
3. Hyper Arcade – Outlaws by Eevee – Code: HZ6672C9
We love playing through quirky custom campaigns – especially those with a sprinkling of humour! The story of Hyper Arcade introduces a rather unique Commander, Steve the Outlaw, an Archer who has gone up in the world, netting himself his very own Groove called 'Revolution', which allows him to take control of adjacent enemy structures and puts all friendly structures back to 100% health. Each level plays out Arcade style, where you fight against a different main story Commander, using Steve's Groove to steer you to victory. A lot of love and effort has gone into making this one, so be sure to check it out!
Last but not least, our first Community Choice Award winner, as voted by players on the Wargroove subreddit: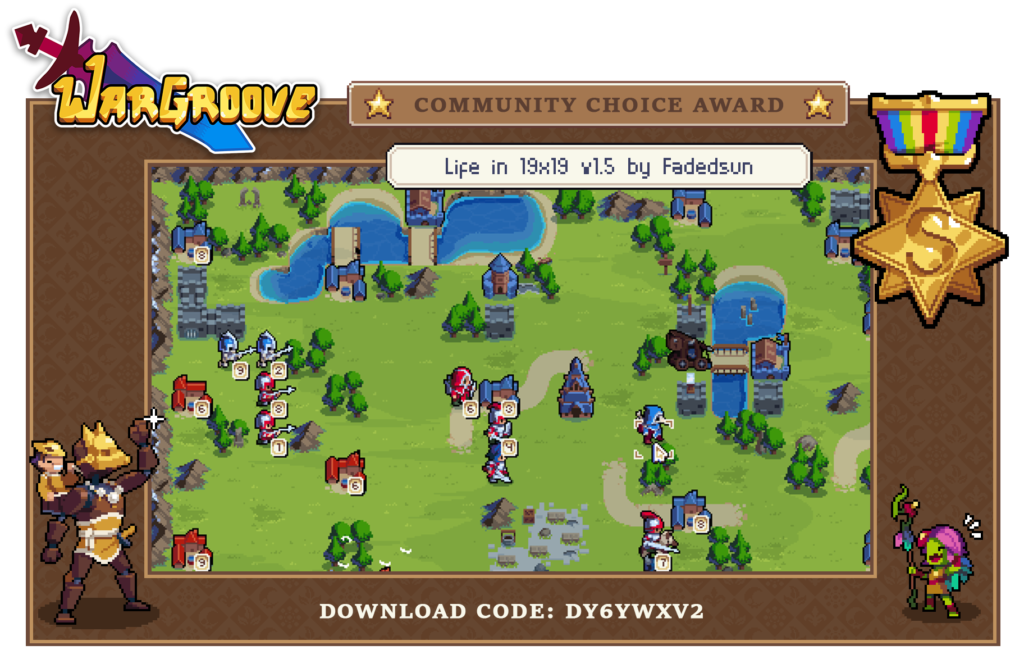 Community Choice Award: Life in 19×19 v1.5 by Fadedsun – Code: DY6YWXV2
Life in 19×19 is a straight-forward skirmash map designed for 1v1 competitive play. Creator Fadedsun created the map with the intention of designing a battlefield where Wargroove players new to the competitive scene could learn more about PvP. User Red-Halo from the Groove of War tournament community also recommended Life in 19×19, describing it as "really popular map in competitive play" and that the design allows reasonably quick play to boot!
That's all we have for today. If you're making maps this weekend, do submit your wonderful designs on this thread via the Wargroove subreddit for the chance to be crowned the Community Choice Award winner next time! And if you're just in it for the map fodder, don't forget to vote for your favourite.
Have a lovely weekend everyone.