Role Call
posted on
Hey everyone! I hope you're all as excited for the release of Wargroove next week as we are! Today I wanted to list Wargroove's voice cast, who have helped bring our commanders and characters to life with battle shouts and cutscene cries! It's been such a great experience working with all these talented actors and they've brought so much to the project.
—


Tamara Fritz
as
Mercia
Tamara Fritz is known for her role as Eudico in
Warframe
's Fortuna expansion and has also worked on games like
My Time at Portia
and
Heroes of Newerth
.
Website
–
Twitter

Jason Marnocha as Emeric
Jason Marnocha has provided the voice for an array of characters in animated media, Indie games and anime. He's voiced Megatron in the Transformers Prime Wars Trilogy, Aurelius in The Wizards VR, Levant in Regalia: Of Men And Monarchs, Keicho Nijimura in JoJo's Bizarre Adventure, Amadeus Guildenstern in Never Stop Sneakin', the Demon King in Seven Deadly Sins, Coach Nanbu in Megalo Box among others.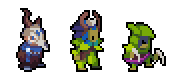 Sean Chiplock as Valder, Greenfinger & Sedge
Sean Chiplock has been an avid participant in videogame culture ever since his childhood, so it's no surprise that he enjoys performing for them just as much as he enjoys playing them. From Freedom Planet to The Legend of Zelda: Breath of the Wild, his vocal adventures have taken him both on and off-planet – although none have been anywhere near as confusing or dangerous as California highway traffic.

Kimlinh Tran as Ragna
Kimlinh Tran is a voice actress based in Southern California who specializes in character voiceover and creature vocal effects, and occasionally assisting in casting for video games. Some of her more well-known roles are Snip & Clip in Nintendo's Snipperclips, Fidget in Dust: An Elysian Tail, Ms. Fortune & Robo-Fortune in Skullgirls, and Valt Aoi in Beyblade Burst Turbo.

Elsie Lovelock as Sigrid & Nuru
Elsie Lovelock is a British singer and voice actress primarily known for her strong singing voice and versatile character voice-over range. Some of her roles include the theme song singer for the game Never Stop Sneakin' on the Nintendo Switch, the singing voice of Charlie in animator VivziePop's series Hazbin Hotel, and Tracer
in RoosterTeeth's Death Battle series. She has voiced for YouTube channels such as Team Four Star and Aphmau, and will also be voicing in the upcoming games including PAYDAY: Crime War and Starstruck.
Dawn M. Bennett as Tenri
Dawn M. Bennett is a Dallas-based voice actress who has worked with FUNimation, Rooster Teeth, OkraTron 5000, ScrewAttack, GalaxyTrail, and now Chucklefish Games! Dawn can be heard in anime such as Dragon Ball Super as Kale & Kefla, Fairy Tail as Frosch, Black Clover as Sister Lily, Yuri!!! on Ice as Isabella Yang, Attack On Titan as Frieda Reiss, and My Hero Academia as Setsuna Tokage. She can also be heard in video games like Dragon Ball Xenoverse 2, SMITE and Freedom Planet.

Aleks Le as Ryota
Aleks Le is an LA-based actor, known for his voice-over work in video games and English dubs of Japanese anime. His most notable roles are Dahar in Laws of the Universe Part 1, Alexis Doucet in Grancrest Wars, and Nightmarionne in Five Nights at Freddy's: Ultimate Custom Night.
Amber Lee Connors as Koji
Amber Lee Connors is a voice actress who has played roles such as Nozomi in Keijo!!!!!!!!, Ms. Joke in My Hero Academia, Brandish in Fairy Tail, Toy Chica in Five Nights At Freddy's: Ultimate Custom Night and Vernal in RWBY.
Featuring David Dixon
David has been voice acting for over 13 years. He has appeared in indie games such as Dust: An Elysian Tail as Blop, Echoes of the Fey as Heremon ir-Caldy, Battle Chef Brigade as Thrash, The Journey Down as Kito and you can currently hear him in the trailer for Battery Jam on the Nintendo Switch.
Featuring Rachael Messer
Rachael Messer has voiced over 300 video game characters and works in Anime for FUNImation & Sentai Filmworks. Some of the Games she's been in are Smite, Warframe, Paladins & System Shock. Anime she's been in include Black Clover, Tokyo Ghoul Re, My Hero Academia, Princess Principal and more.
Website – Twitter