Community Maps Spotlight #18
posted on
G'day folks!
As we at Chucklefish continue working from home and responsibly practise social distancing, we're hoping you're all safe and healthy! For my part, it's been wonderful to see that so many people in our community are still churning out fantastic custom content, and I'm here again to share some of the best!
Before delving into today's entries, I wanted to give a shout out to Derek, whose custom campaign  'TinyGrooveCS' was the winner of the Community Choice Award last month. Since then, they've updated the campaign once more to version 3, so if you missed it the first time, be sure to check it out: EX64VEEQ
1. Pinwheel Plains by Braeden – Code: DD2SDQVA
This giant pinwheel can turn into a real blender, as four players must contend for control of the centre where additional Barracks and a lone Tower reside.

2. Agent's Legacy v1.0 by tst5381 – Code: YJJETQ9E
This clever puzzle map sees Sedge taking on the role of an agent, trying to break in and reach the treasure in a single turn. The twist is that every enemy he takes down with Sadistic Rush will be revived as his own unit, so you have to work out what units will help you move forward while still leaving targets for Sedge to finish off.
Community Choice Award: Ryota Chess Mini – 9×9 [Ver1.0R] by Alsame – Code: NLET6H85
This custom game mode is just perfect for practising with Ryota's groove, Blade Dash. Both players are put in control of the Heavensong general with his groove always charged, but with his health locked at 1% while all other units function as normal. Ryota Chess is all about trying to pick off the the highly vulnerable opposing Ryota while keeping your own safe. Careful consideration of unit positioning has never been more important, since all units and structures can be used for dashes by both players. All it takes is one mistake to lose the game, which results in some real nail-biting tension as the field fills up with units. Just watch out for those death pits in the corners of the map! If any of your units end their move standing in them, you lose!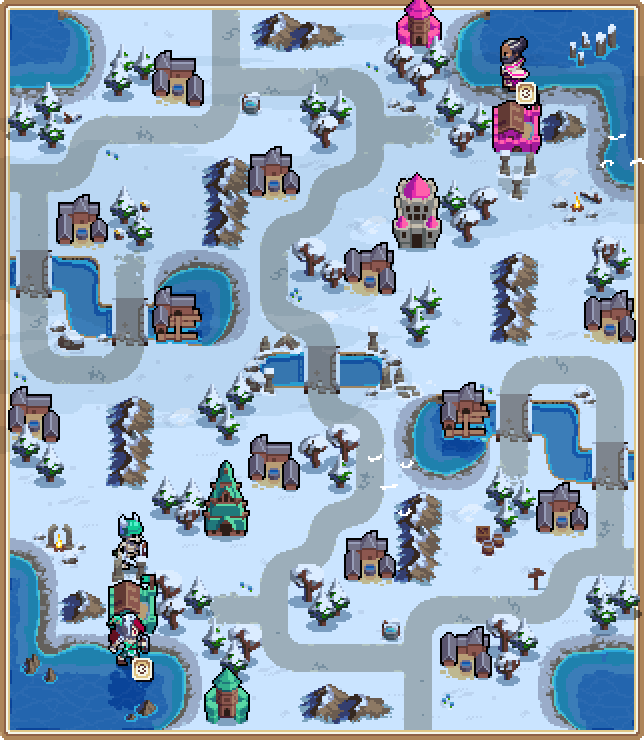 Bonus Dev-made map: The Fordtara Icelands by Armagon – Code: V3HNH7YC

After making a bunch of larger-scale maps, I decided to dial it back for this one. With a relatively low economy, and a singular barracks and tower on each side, losing even one village to your opponent can really hurt here! Hope you guys like it!
That's it for now! If you're making Wargroove content, be sure to submit your efforts on this thread via the Wargroove subreddit for the chance to be crowned the next Community Choice Award winner! Please be sure to share the love by upvoting your favourite on the thread. With our recently released video guides there's really never been a better time to get into making your own levels!
Until next time!