Community Maps Spotlight #28
posted on
G'day folks! I've got a lot to cover today, including some fun news that will likely be of interest to the creators in our community. Let's start by diving into today's highlights!
1. Warship (2p) by Deminobody – Code: FW24BMCB
This is an impressively well-made scenario map that will feel very familiar to you if you've ever played Battleship. Both players pop down ship formations, and then take turns firing off bombs at each other's fleets. It keeps track of the spots you attacked, hit and missed, with victory going to the first player to wipe out their opponent's fleet. All-in-all a fantastic map!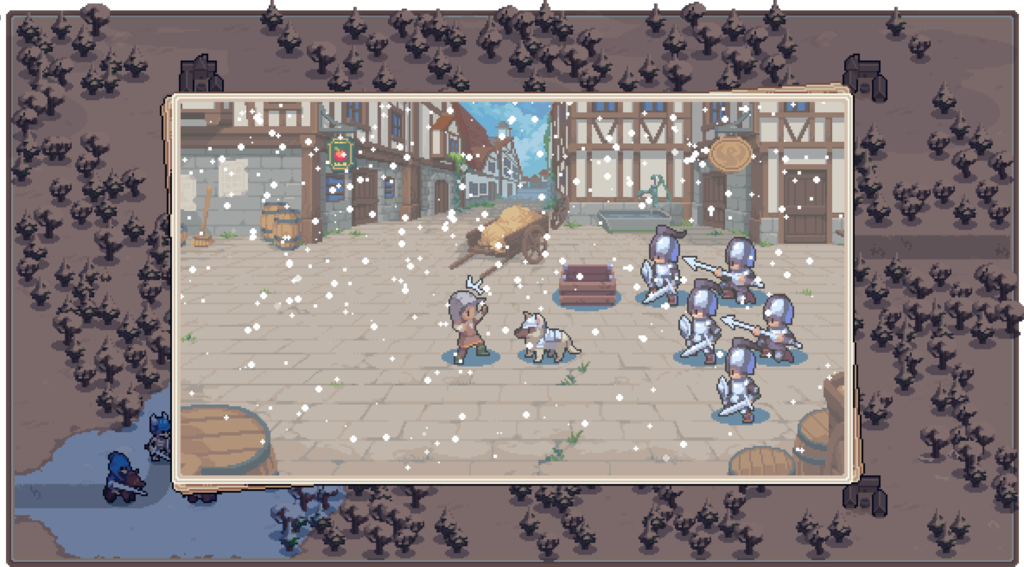 2. Tales of a Fallow Era by Faust– Code: DV2KNUSX
This campaign sets out to expand on the lore of Felheim by diving into a period of time where the undead roam free, untethered and unchecked. The overall presentation is excellent and the mission designs were pleasantly varied and interesting!
3. Freezer Fun: A Wargroove Quiz by ABC – Code: JDFMMJZF
Think you know Wargroove? Then Ragna's got just the quiz for you to put your knowledge to the test! To move across the map you have to approach the door and correctly answer a piece of Wargroove trivia. Get it right, and the door moves a space further. Get it wrong and Mercia takes a hit. I was really impressed by the number and variety of question types. The writing was a particular standout as Ragna delivers every question clearly and in rhyme.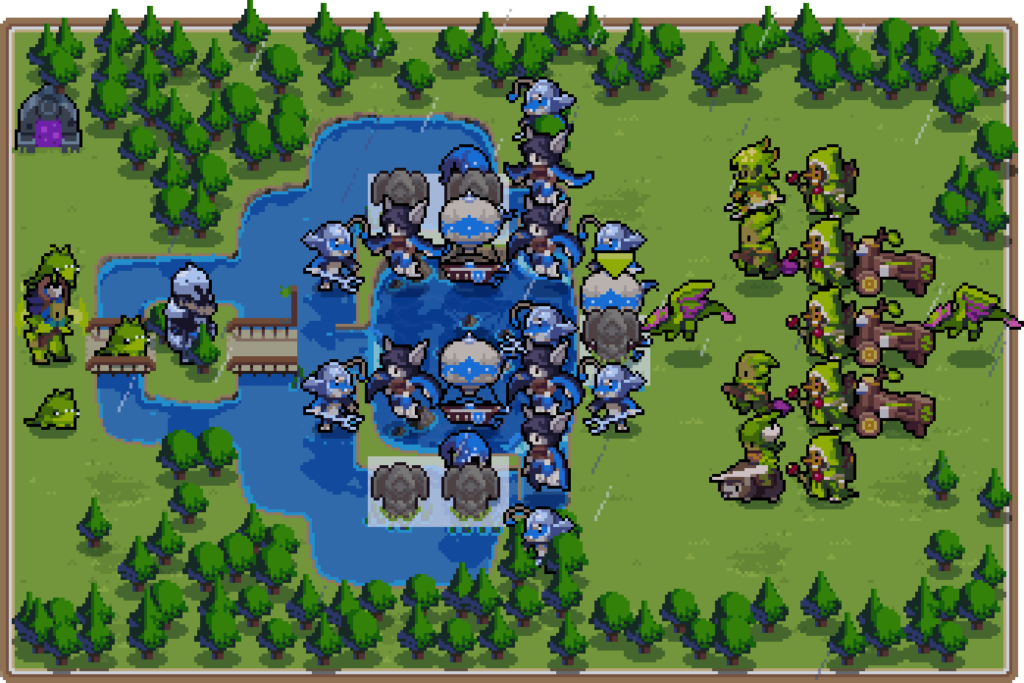 4. You can (not) be puzzled v11.1 by Neg Everyday – Code: 84ZQX6LJ
This puzzle campaign presents several satisfying brainteasers with a variety of different objectives ranging from taking out every enemy unit, to successfully planting Greenfinger's vines in specific locations. I feel like Neg landed on a nice level of difficulty, and they really went the extra mile by building a level skip portal into each one, so if you find yourself stuck you can still go on to play the others and come back to the stumper later.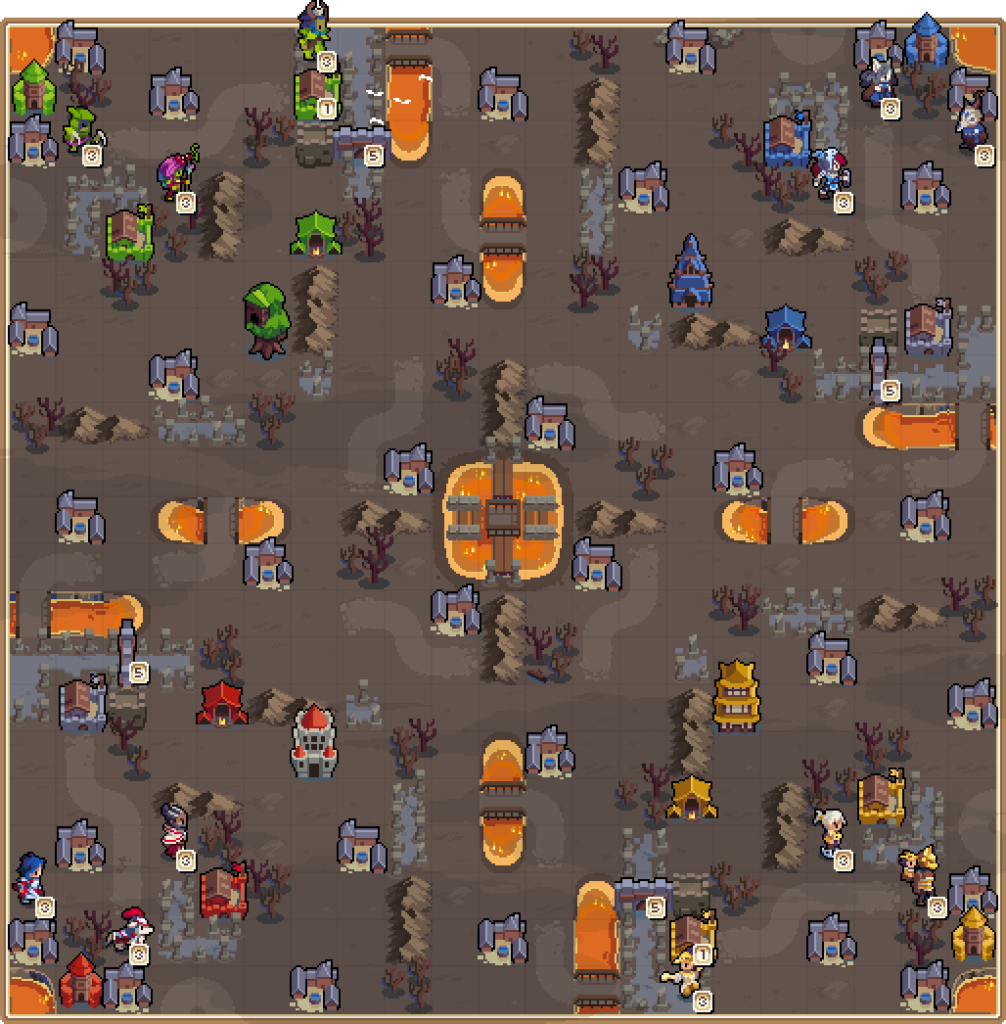 Bonus Dev-made map: The Grand Faction Wasteland War by Armagon – Code: YV6SCRG2
Four players, each controlling three commanders from their chosen faction. Players are eliminated if they lose all three of their commanders, or their one and only stronghold. I'm quite pleased with how this one came out!

As maps that use entire factions are something I think it would be cool to see more of, I whipped up a template so players on PC can easily make their own without having to do all the time-consuming work in the event editor to make it happen. The zip below contains a text file that explains how to install and use it.
The Community Choice Award is making a comeback!
You may have noticed that recently the official Wargroove Discord was combined with that of the Groove of War community's, bringing all our players together under one groovy umbrella! A few months ago, we put the Community Choice Award on hiatus with the intention of bringing it back after this merge took place. The time for its return has finally come!

Let me break down how this is going to work. If you've played or made a map, campaign or mod that you think deserves to be highlighted in the community spotlight, you can hop onto the Wargroove Discord and post it in #community-choice. All posts should include the name of the creation, the author's name, the download code, a screenshot and a description.

Every month we'll set a deadline and watch this channel. The creation that has received the most thumbs up reactions from the community by the end will be the winner, earning it a spot in the next Community Spotlight!

The first deadline for this newly revised Community Choice is March 5th, so if you've got something you're itching to share, get on it!
Wargroove Birthday Streams!
In case you missed it Wargroove turned two years old a few days ago. To celebrate the occasion, we hosted a bunch of streams in collaboration with members of the Groove of War community, which ended up being a lot of fun!
The day started strong with an art stream by Chucklefish's ever-delightful pusher of pixels, T3nshi. What followed was a casual fun stream between some of the community's best players, with commentary provided by the always-passionate SneakyDragon and our lovely community manager Pilgrim. Later a bunch of the Chucklefish team got together for a couple of fun matches and a fireside talk about Wargroove's development. Lastly, Barrett of the Groove of War community played host to a series of great showmatches, including an amusing 2v2 where two of Wargroove's best players, Saikoya and Emo Tarquin, were paired off with Chucklefish's much-less-experienced Shubeans and Pilgrim.
All in all, it was a really great time, and I wanted to say thank you so much to everyone who came along to take part and an extra special thank you to the Groove of War folks who helped to make the day possible. The team at Chucklefish is immensely grateful to have such a friendly and supportive community.
Until next time, take care of yourselves and have a lovely weekend!