Play the Wargroove 2 demo in Steam Next Fest!
posted on
Hi everyone!
We're excited to announce that Wargroove 2 will be taking part in this Steam Next Fest. That means you'll be able to play the demo from June 19th – 26th, starting at 10am PDT / 1pm EDT / 6pm BST / 7pm CEST / 2am JST / 1am CST.
The demo will be playable in English, French, German, Spanish, Brazilian Portuguese, Russian, and Simplified Chinese (Japanese players, we'll have news for you soon!).
In this demo we're giving you a look at Conquest, a single-player roguelike mode completely new to Wargroove 2, as well as access to online and local co-op Multiplayer skirmishes! If you played the PAX Wargroove 2 demo, fear not, we're made some changes based on initial player feedback, and have new commanders on the roster: Caesar, Mercia, Emeric and Dark Mercia.
Check out the Steam Next Fest demo teaser trailer here:
What's Conquest mode?
Hands up if you crave permadeath! 🙌 In Conquest you'll take on quick-paced, bite-sized battles, where every choice is permanent. Once you've selected your starting troop, plan your route to victory as you take on a series of challenges, leading up to the demo's boss.
The Steam Next Fest demo is of course an early snapshot of what you can expect from Conquest mode in the full game – with more trials to unlock with various Commanders, as you climb the ranks of this new challenging game mode!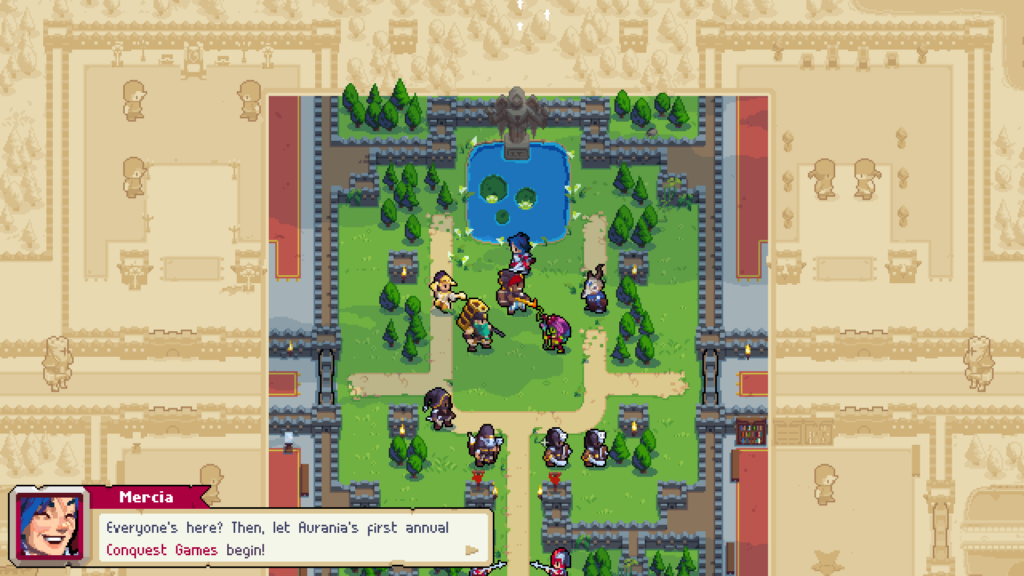 What's changed since the PAX East demo build?
We've made a few exciting changes to the build since our PAX demo, which we did a progress update on last month. Those changes are finally ready, with a changelist that includes:
Lucky Coins (previously Blessings) are permanent
Instead of one commander, you pick your commander at the beginning of the conquest. 5 commanders in total available. Selection is randomized.
New items
Rebalanced progression in conquest mode
Conquest is a bit longer overall (2 elite fights)
New events (there's a couple of new mystery events, merchant events and heal events)
Dedicated recruit events (with randomized capacities)
Lots of UI Tweaks + new UI elements
Improved controller support
Free Move mode has been added: In non-combat maps you can move around freely without turns.
Improved/fixed AI in Fog of War (they don't cheat quite as directly any more)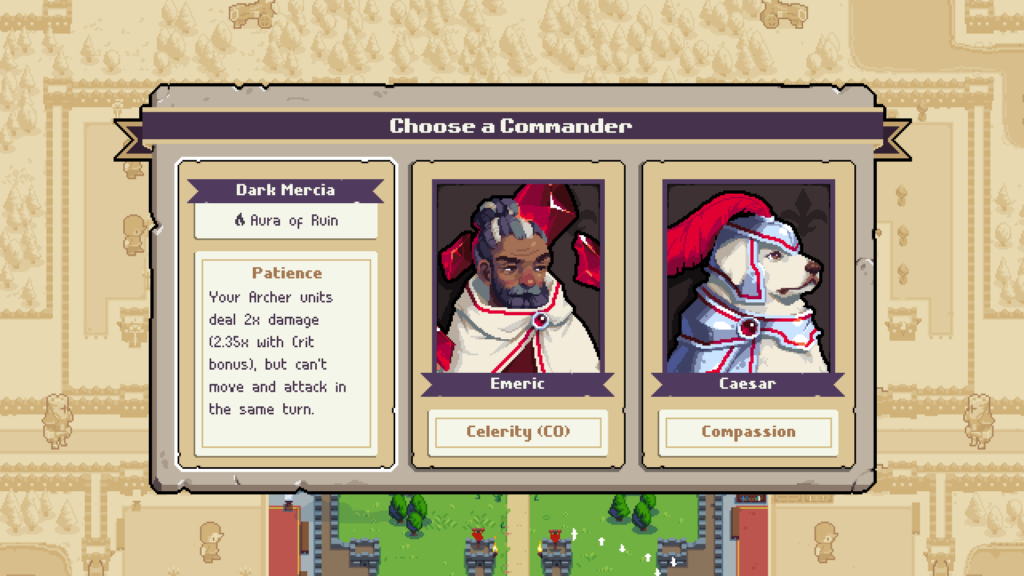 How do I start a Multiplayer game?
In this demo you can play both Online and Local Multiplayer modes with up to 4 players, with a limited number of Commanders old and new alike at your disposal (you might notice though that we're keeping a few a secret for now!)
To kickstart a match, select 'Multiplayer' from the menu and select either Local or Online. For an Online match, you can join a friend's match by selecting the button to the bottom right and join with a code, or host a New Match and have a friend (or stranger!) join your game.
Looking for people to play with? Join our Discord and find folks who want to play!
What else will be in the full game?
6 Factions with 22 Commanders
3 Campaigns, interwoven by an explosive conclusion
5 new units, bringing the total unit types to 26
Conquest mode – the new roguelike game mode
Local and Online Multiplayer
Map & custom campaign creation tools
Original OST by Dale North
French, German, Spanish, Japanese, Brazilian Portuguese, Russian, and Simplified Chinese localisation
Where can I share feedback?Thank you for checking out our game! Please feel free to share any demo feedback you have in this Steam Forums thread. If you enjoyed the demo, and want to find out more about Wargroove 2, find us on Twitter or come and join the official Wargroove Discord. The development team often pops in to answer questions and share insights on the game's development. Lastly, be sure to wishlist the game for a notification as soon as the full game is available later this year!
Enjoy the demo!
-Chucklefish & Robotality