Hey folks!

Hello I'm Simon from Robotality, one of the development leads on Wargroove 2. If you've been hanging out in The Wargroove discord, then you may well already know me 🙂 With Wargroove 2 coming to PC and Switch later this year, we thought we'd take the time to give you a sneak peek at some of the new and improved custom creation tools we've been working on.
Before we start – if you're heading to Gamescom this week, come and play Wargroove 2 at the Nintendo area of the Indie Arena Booth! The demo is also fully localised into English, French, German, EU Spanish, Brazilian Portuguese, Russian, Traditional Chinese and Simplified Chinese.

Firstly, if you've used our map and campaign tools before, you'll be happy to know that all the content (and much more!) will still be available for you to create your best battles. If you're new to the world of custom creation, these tools have never been easier to jump right into. Without further ado, let's take a look at some of the new additions.

Symmetry Tool
It's now easier than ever to balance your multiplayer maps with the help of the 5 symmetry tool options. These magical map mirrors will work on tiles, buildings and units.
Y-Mirror Symmetry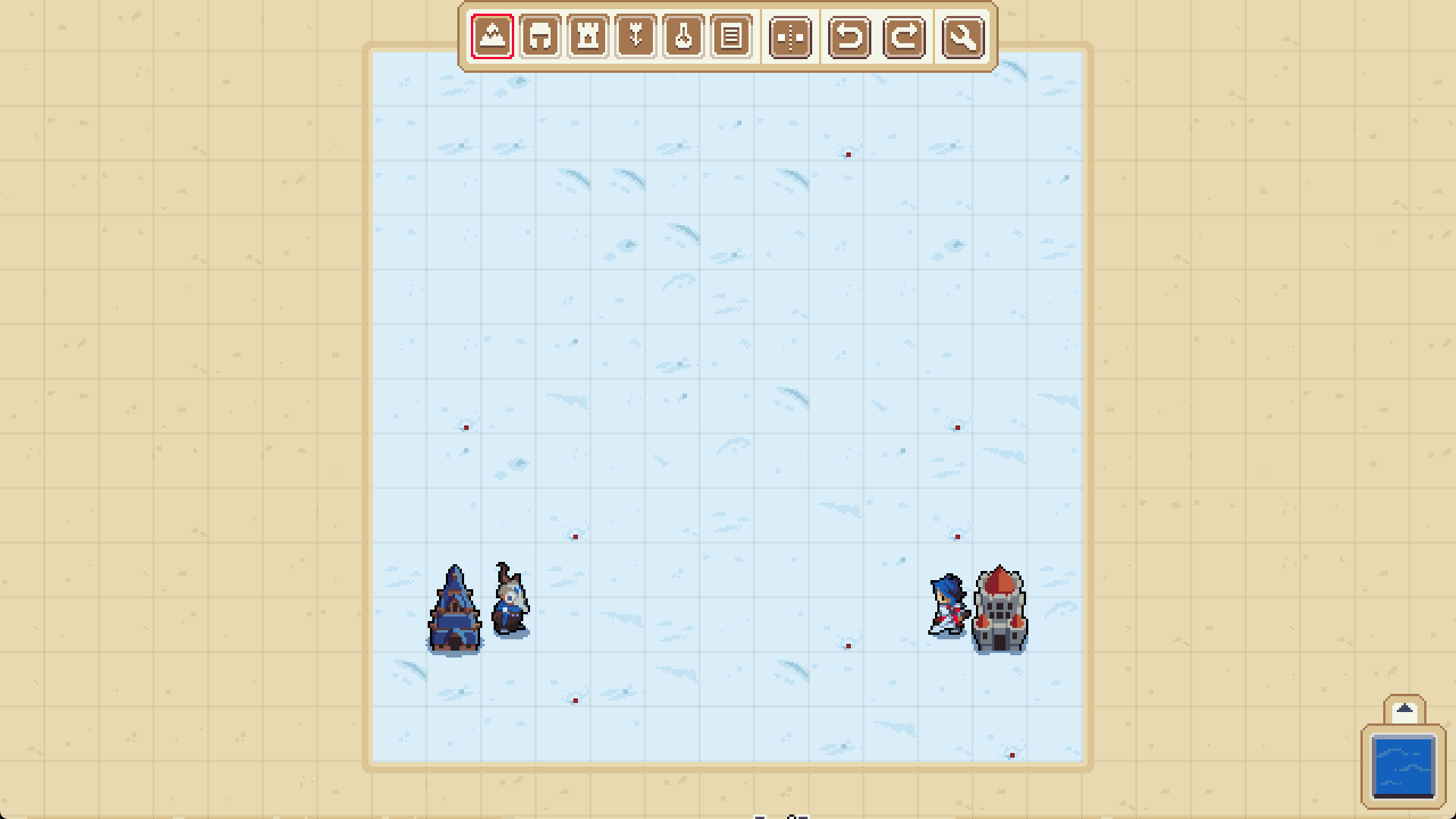 X-Mirror Symmetry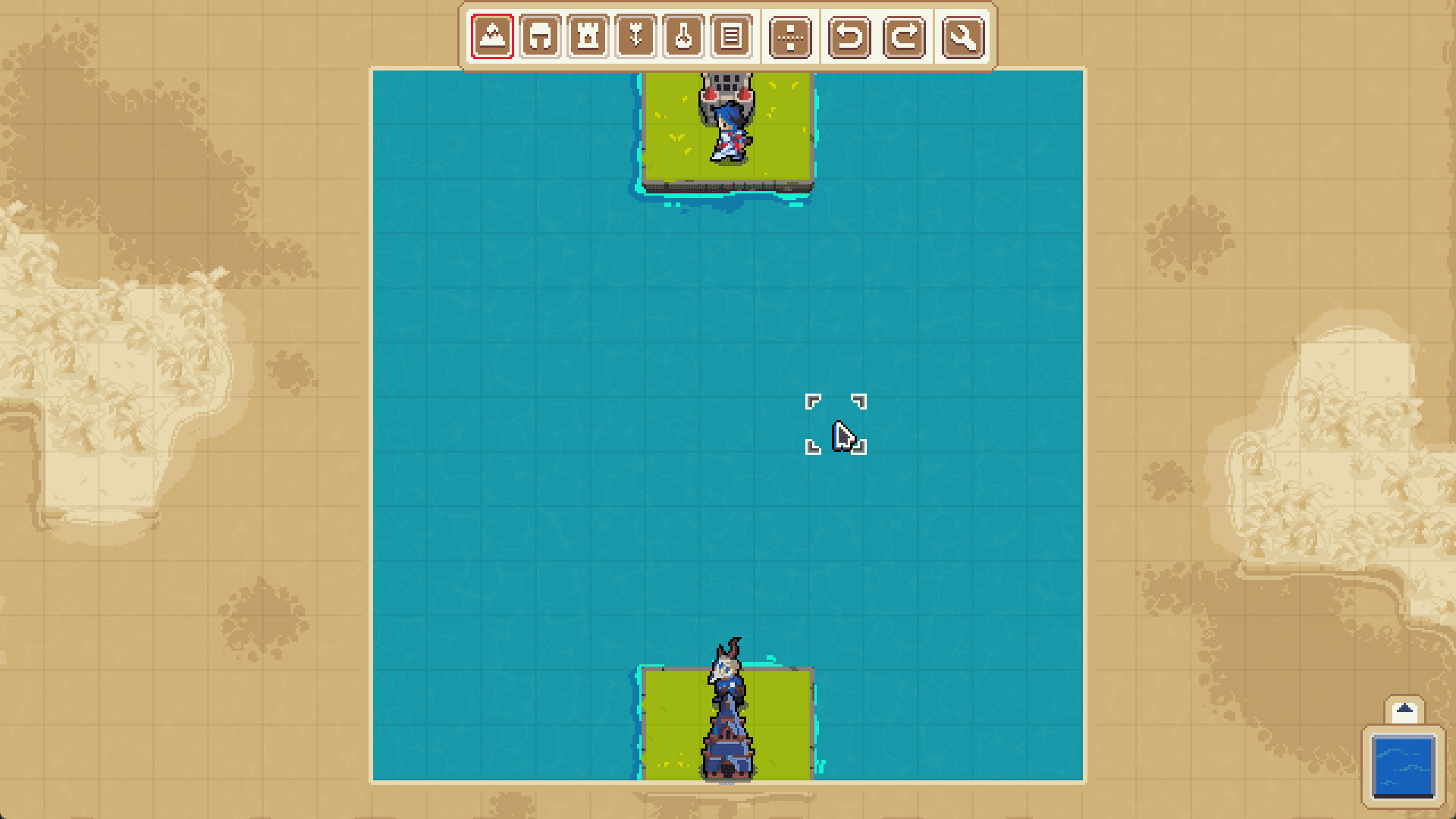 XY-Mirror Symmetry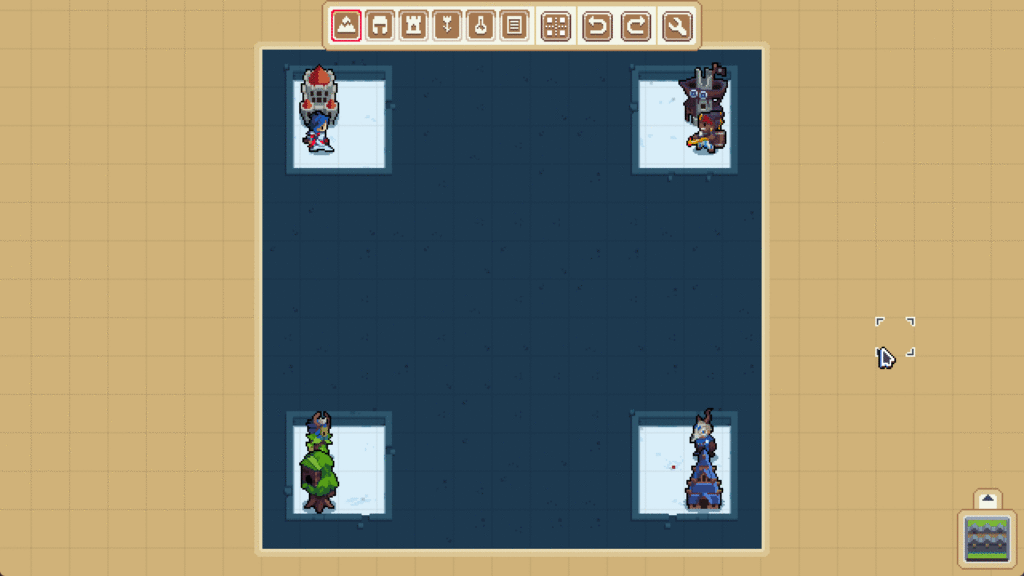 2x Point Symmetry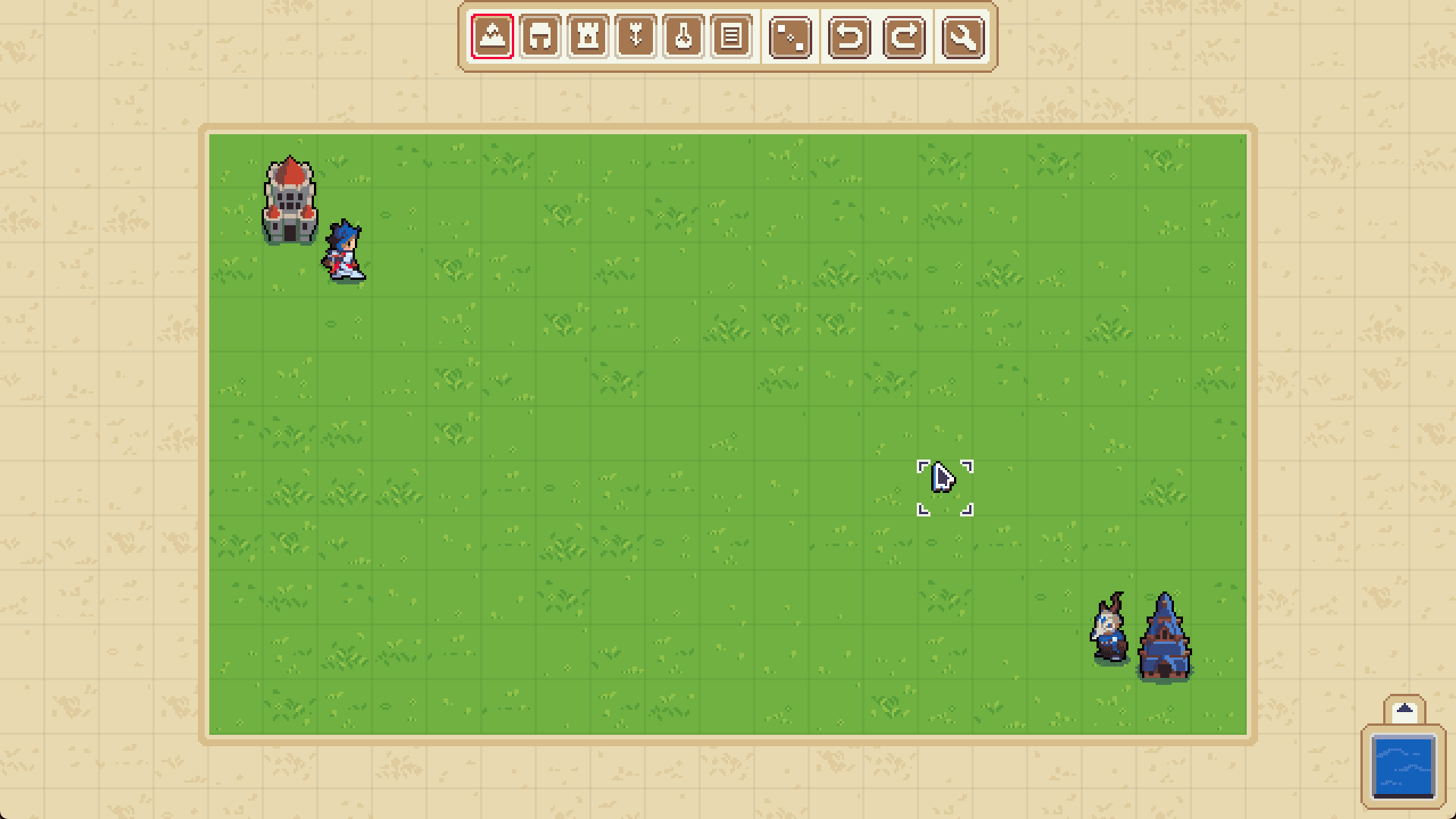 4x Point Symmetry

Storytelling & Map-based Cutscene
Being a highly-requested feature, we've now added scripting functionalities for units! You can now command your units to perform attacks and movement. Additionally, we've also introduced the capability to script special effects directly on to map objects, so you can sprinkle in a little zhuzh and pizzazz onto the battlefield.
We've also made significant strides in dialogue options. Our multiple-choice dialogue system now enables branched scripts, helping you deliver a more personalized narrative journey.
For those who enjoy story-driven experiences, you'll be pleased to know that we've also added story-only maps. This means you can now enjoy non-combat stories, which you'll see utilised in our own campaigns where you can interact with characters and objects.
Weather and daytime visuals can now be altered on the fly, primarily for storytelling purposes, be it a skirmish in the sun or a raid during a stormy night.
Lastly, we've introduced a screenshake feature for those scenes that call for a little wibble wobble.
Wang Tilesets
Why is it called that? It's named after mathematician, Hao Wang, who coined the term to describe tile arrangements that had matching edges without breaks in their pattern. For Wargroove 2 we looked holistically at all of the creation tool feedback and felt Wang tilesets were the answer.

One of the largest bits of feedback that we got from our fine map-making community is that the original Wargroove tileset felt limited due to the kind of tiles that could be placed next to one another. To solve this issue we extended the complexity of the tileset and made it from a partial Wang tileset into a complete Wang tilest.
Sounds fancy you say, but what brings this to the table for us map makers? Well glad you asked: In short, way more flexibility. You can now place nearly any combination of tiles against each other without breaking the map: Want to have a stretch of islands connected via beaches that the player can walk over? Easy.
Have roads that are broader than 1 tile? No problem.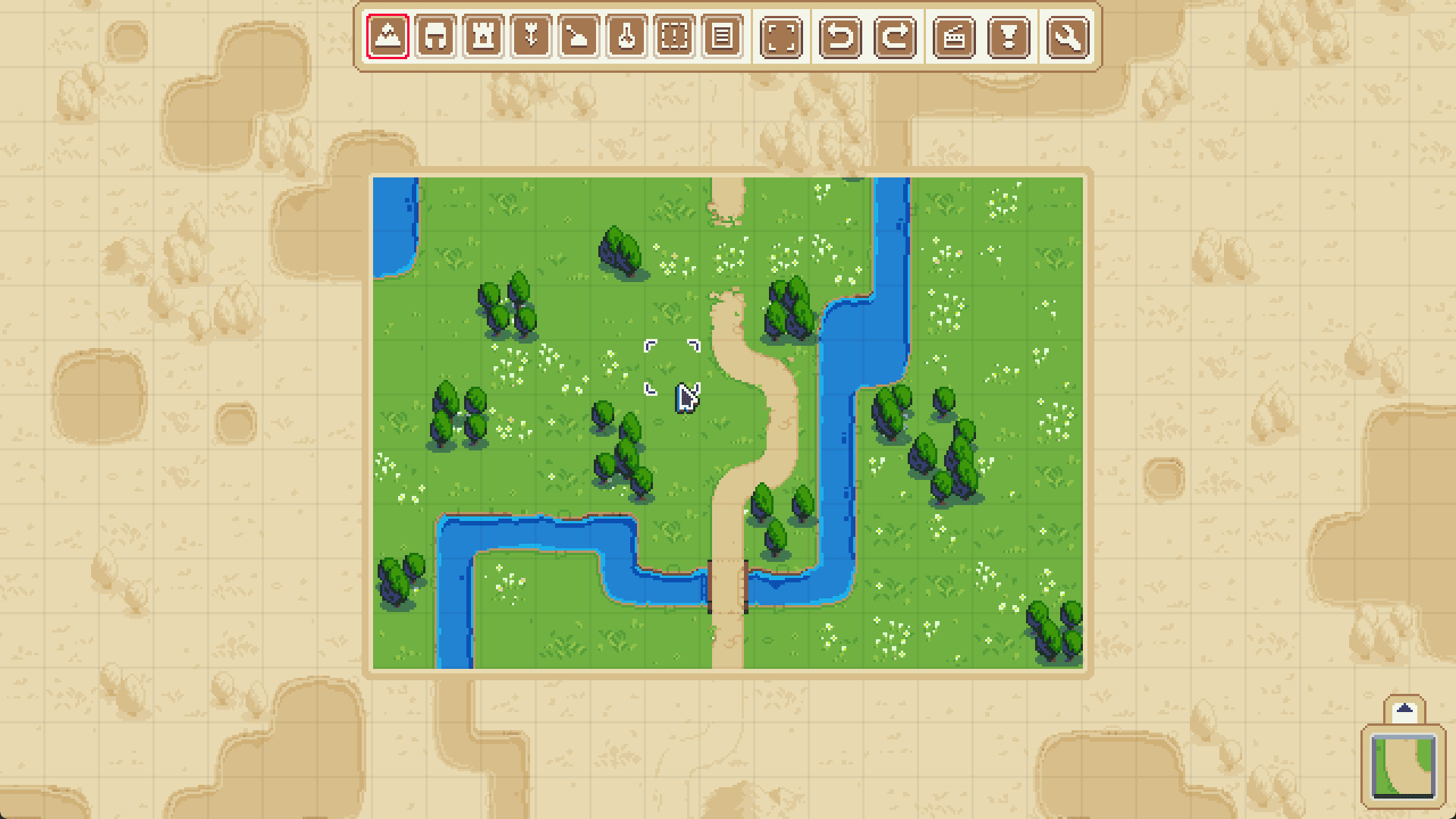 Walls that can be combined into whole structures.? Now possible.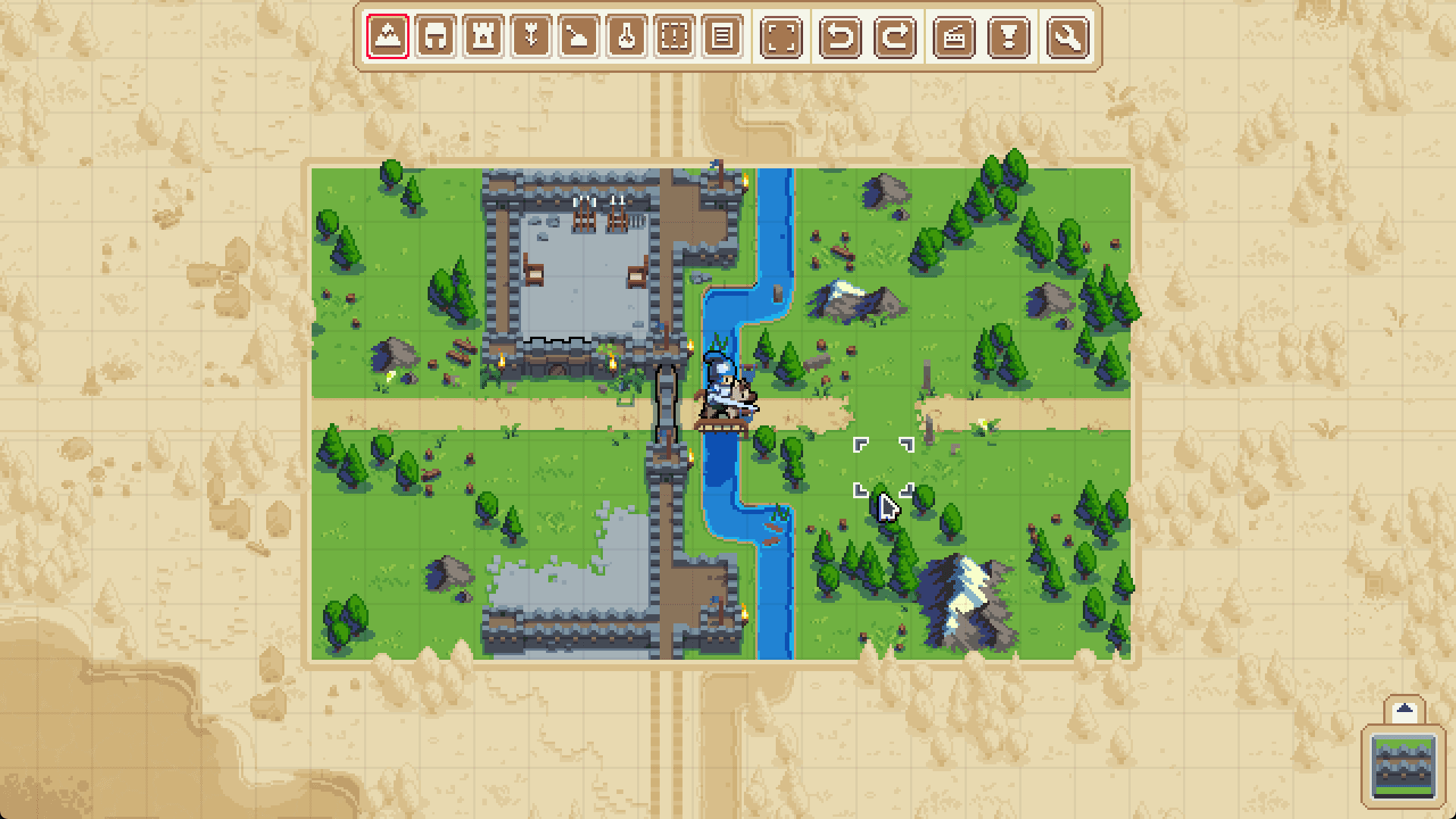 Deep Sea that touches the coast? Sure thing.
This feature is hard to describe as it is a very technical change but the result is super obvious once you have started making maps. You should now hit nearly no limits on how tiles can be placed. Previously maps looked a bit confusing

Other Cool Additions
We want to make map-making as simple as possible. So whether you made a misclick with your placement or simply want to try a different option, the undo and redo feature comes to your rescue.
One of the most significant updates in Wargroove 2 is the addition of scripted bonus objectives for maps – which you'll also get to sink your teeth into in the campaign too! This new map creation feature not only introduces an extra layer of challenge to your gameplay, but also offers opportunities for additional rewards for your players
If you've had the chance to play our Conquest Mode demo then you'll know we've added some super cool items to bolster your units and give them that much-needed edge. In creator mode, units can now hold items, adding an element of strategy and offering diverse possibilities for gameplay. Similarly, maps can also have items, helping encourage player exploration and even tempting them to overextend themselves…
We've also introduced a new feature that allows you to spawn units inside travel boats or wagons via script. This gives you more control over units' deployment and increases the strategic depth of your maps.
And finally, our new toolset also brings with it three new tilesets: cut forest, abyss, and abyss bridge, and we can't wait to see what kind of creative things you do with them!

Before we sign off, we want to give a shout out to all the closed beta testers who've been helping us refine the custom content tools for this game. Having seasoned community members, who love to create and share has empowered us to deliver the best version of these tools, and we couldn't have done it without you.
Until next time!

Simon and the Robotality team