Let's Get Physical!
posted on
Hi everyone!
We know a lot of you have been requesting it, so we have some awesome news for you today… Wargroove will be getting it's very own physical release on October 29, 2019! That's right, you'll be able to walk into a shop, and hold Wargroove in your very own hands! (You could even buy it and play it at home if you want).
We've teamed up with the folks at Sold Out to release a retail version of Wargroove on both Nintendo Switch and PlayStation 4, called the 'Wargroove Deluxe Edition'. What makes it so deluxe I hear you ask? This physical 'Deluxe Edition' will include:
Physical disc/cartridge copy of the game
Downloadable version of the Wargroove Soundtrack by Phonetic Hero and Boss Battle Records
Commander sprite sticker sheet
Poster map of Aurania
Mini Strategy Manual with stats & tips on all units (available in English, French, Italian, German & Spanish)
Reversible coversheet – it's a clean version of the key art without all those messy logos, but complete with standard spine so that it still looks normal on your shelf!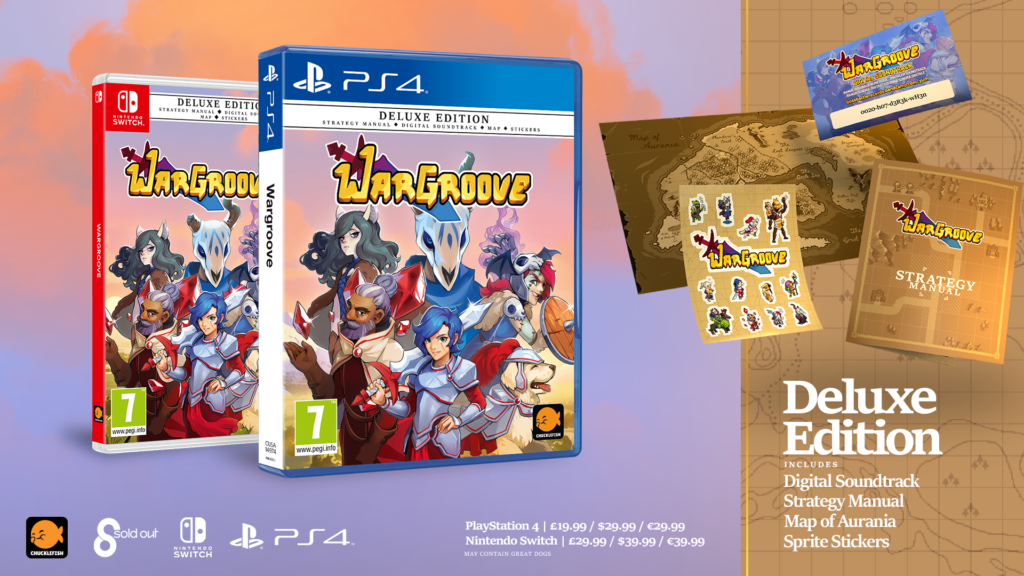 Wargroove 'Deluxe Edition' will be hitting good ol' brick and mortar stores October 29! It will SRP for £19.99 / $29.99 / €29.99 on PS4 and £29.99 / $39.99 / €39.99 on Nintendo Switch. You can pre-order at select locations and online (eg Amazon).
We're incredibly excited to be working with Sold Out on a full retail release. This will be the very first time an in-house Chucklefish game will receive a physical version, so it truly feels like hitting a new milestone in our journey as an indie developer.
We hope you'll support the physical launch on release, and will keep you posted once an official release date for both versions has been fixed.
Bye for now!