Community Maps Spotlight #21
posted on
Hey guys! I hope you're all doing well!

We're already halfway through 2020, and while this year has certainly had its challenges, we're so grateful to see players continuing to create awesome content for our little game, and I've got some more fantastic efforts that I wanted to highlight!

Before delving into today's entries, I wanted to give a shout out to WhiteOrbison, whose custom campaign 'Mercenary Chronicles: Wonder Oak' was featured in Community Maps Spotlight #17. Since then, that campaign has received an update, so if you missed it the first time, be sure to check it out: AAPZRMD9
1. Ecros Midlands by n8 – Code: NJRLL2V6
The resource-laden side routes on this battlefield serve as crucial targets, so one's ability to fight in constricted conditions may well determine the victor here. Just be careful not to lose control of the midfield along the way, otherwise retaining your resources in those areas may become rather difficult.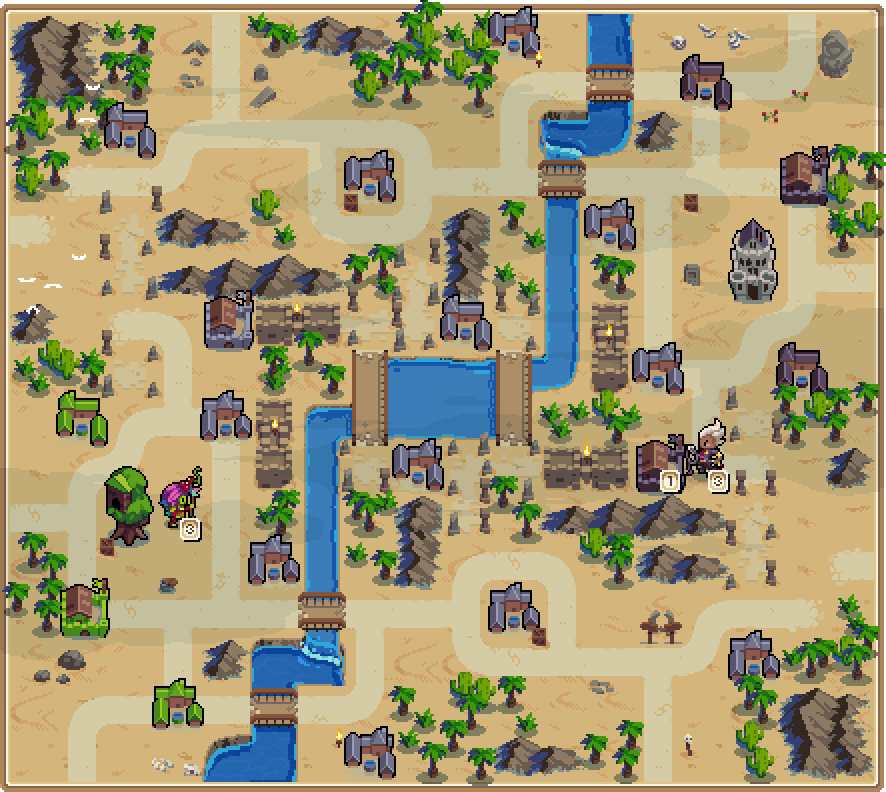 2. Enclosed – v1.1 by G.Power9 – Code: XSNA3ZCY
The density of forest and mountains around the forward barracks on each side gave this map some really interesting dynamics; especially as to cover both fronts a player may need to move vital units across the incredibly vulnerable river position in the center. I had a lot of fun with this one!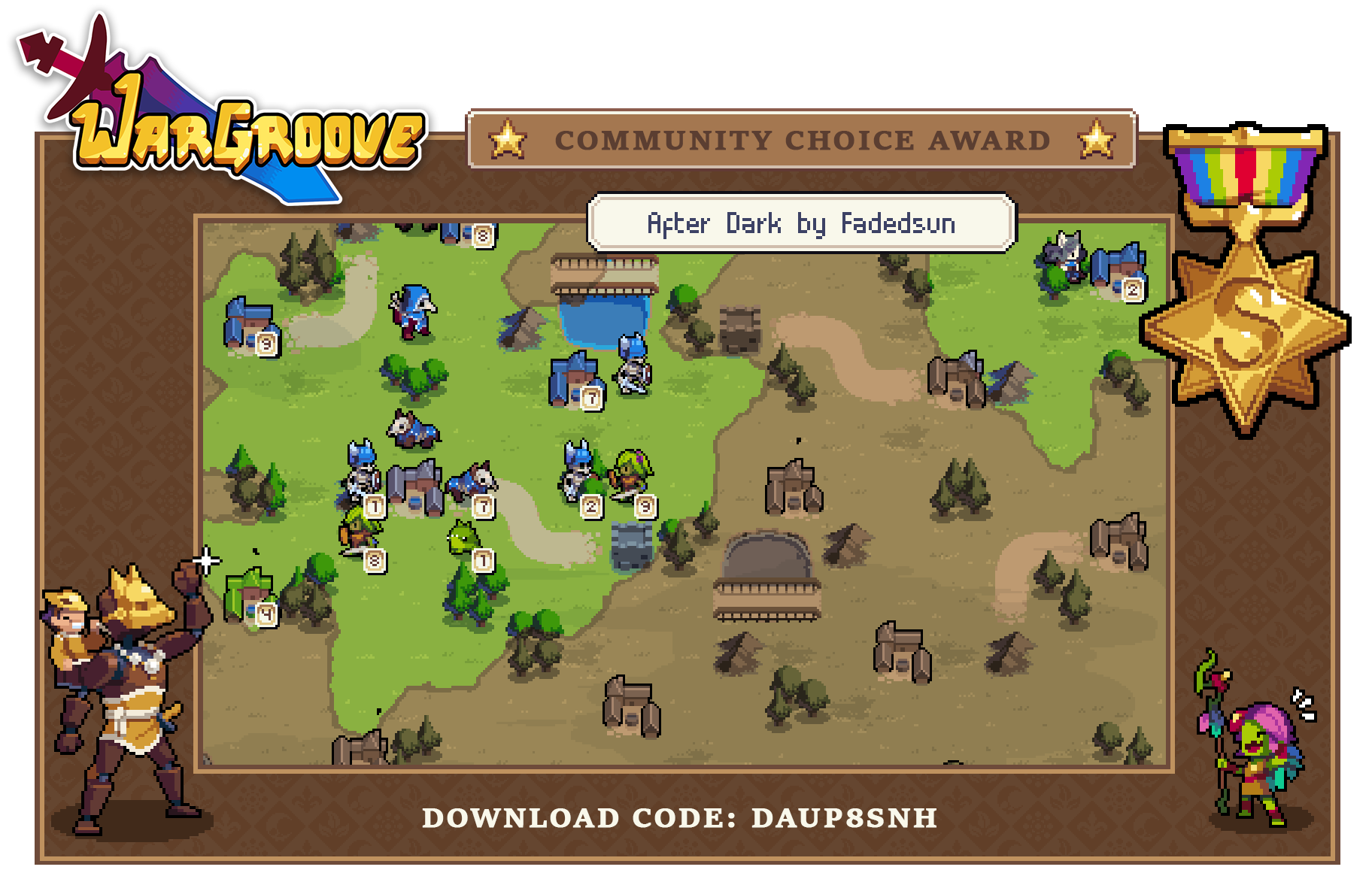 Community Choice Award: After Dark by Fadedsun – Code: DAUP8SNH
In the wake of the big changes made to Wargroove's fog of war, we've seen a considerable upturn in the number of levels being designed specifically for the fog. Fadedsun's effort here incorporates a mix of wide open spaces, forests to hide in, and mountains to grant vision for scouts. Awareness of where your opponent is focusing their efforts is crucial to securing victory.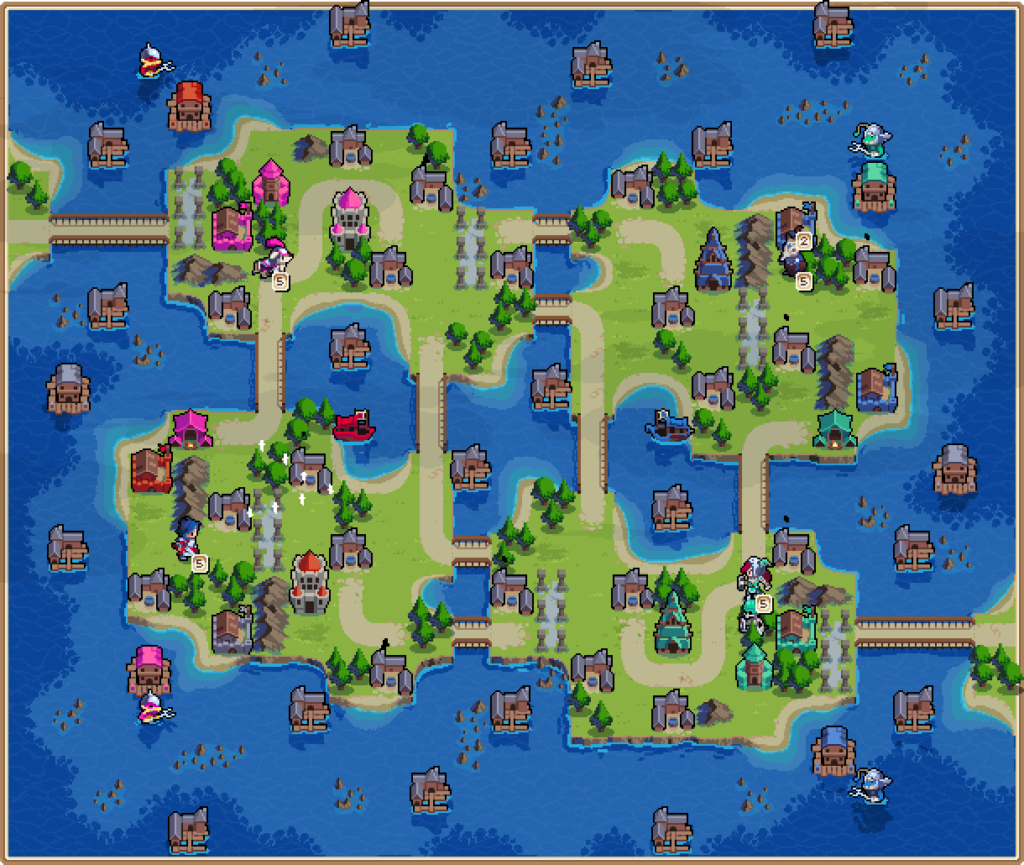 Bonus Dev-made map: Kingsview Archipelago by Armagon – Code: LZLSW7AZ
This was my attempt at designing a map specifically for 2v2 using some of the lessons I learned while building the Double Trouble campaign. Players will need to carefully consider their options as a team, with victory going to the pair that best support each other at the most crucial moments.
That's it for today! If you're making Wargroove content, be sure to submit your efforts on this thread via the Wargroove subreddit for the chance to be crowned the next Community Choice Award winner! Please be sure to share the love by upvoting your favourite on the thread. With our introductory video guides there's really never been a better time to get into making your own levels!
I hope you guys have a lovely weekend and continue to look after yourselves and each other. See you next time!