Community Maps Spotlight #22
posted on
G'day folks, thanks for stopping by!

It's been nice to finally bring Wargroove: Double Trouble and crossplay to our players on PS4. If you'd told my younger self that one day we'd be able to have games with players from every major platform playing together, I'm not sure I'd have believed you.

But what's a community of players without fun new maps to play? Today I've got some more standouts for you guys to check out!

Before delving into the entries, I wanted to give a shout out to 'X Naut Elite' whose party-game-style map 'RAGNA'S ROULETTE!' was featured in Community Maps Spotlight #20. Since then, the scenario has received an update, so if you missed it the first time, be sure to check it out: U62RDK8C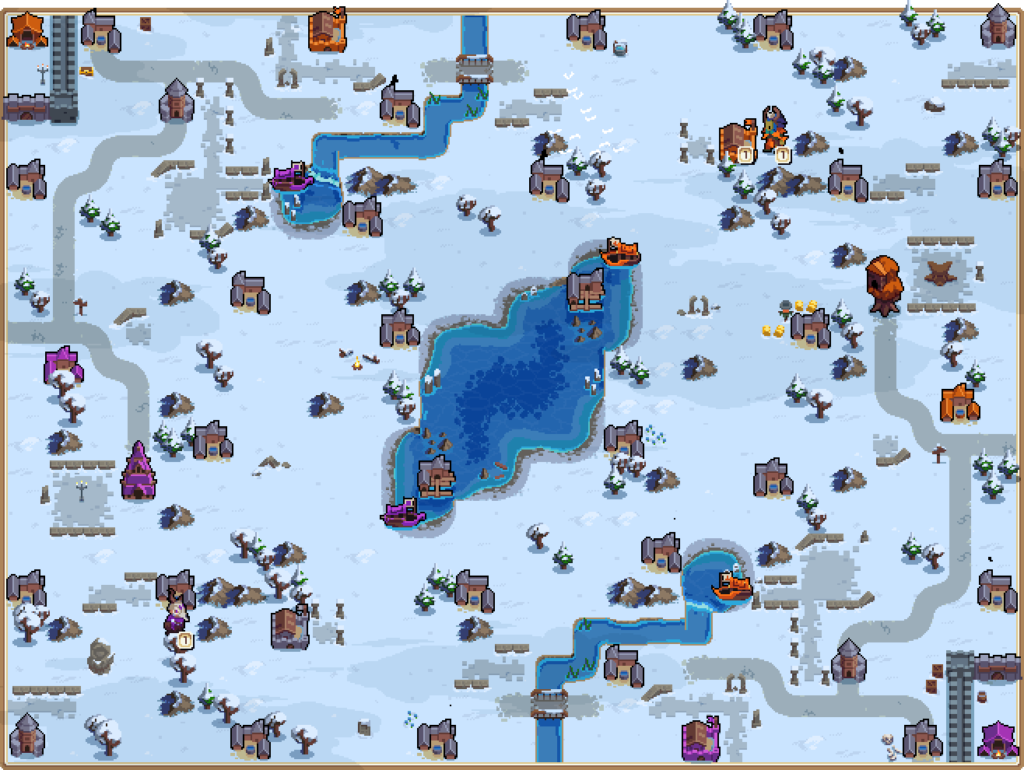 1. Sapphire Shores 1.1 by Xmo5 – Code: NT9AJ3VD
Control of the central lake and nearby rivers is really important in this skirmish map. The starting barges make it much easier to move your troops from one front to another, so if you lose them, you just might lose everything else too!
2. Basilisk by Best Sakuya NA – Code: 2FMZBLBZ
This map is defined by the road that snakes its way across the center. The flagstone placement ensures you won't be bringing any ground artillery to the fight and dramatically impacts the paths available to flying units. The strength of your ground game will determine your fate here.
Honorable Mention: 9 Levels of Luck – Beta3 by Deminobody – Code: TYQV5YGG
In this custom game mode, you are pitted against waves of randomly selected enemies, with a steady escalation in difficulty with each new wave. The hook is that after beating a wave, one of the non-commander enemies you just took down will be chosen at random to respawn and fight for you instead. Once you lose a unit however, it's gone for good! You're going to need both luck and skill to successfully beat all the waves.
I must admit I was a little uncertain whether or not to share this entry, as it may still be actively in development by the author, and could swiftly be rendered out-of-date, but I thought the concept was too cool and well-executed to not at least give it a mention. Give it a spin if it sounds like your kind of thing!
Community Choice Award: Hounding The Outlaws by Emo Tarquin – Code: QQ56DE39
This month's community pick presents one of the most formidable puzzle maps I've played since Wargroove launched. If you want a challenge that'll test your comprehension of the game's mechanics, this is the level for you!
Bonus Dev-made map: Frostfinger Fields by Armagon – Code: BRYQ2Q6L
This map sees players fighting for control over the river, while trying to keep your vulnerable Stronghold guarded. With multiple choke points along the length of the river, I find playing this level with fog of war is particularly scary. Just what is waiting for you on the other side?
That's it for today! If you're making Wargroove content, be sure to submit your efforts on this thread via the Wargroove subreddit for the chance to be crowned the next Community Choice Award winner! Please be sure to share the love by upvoting your favourite on the thread. With our introductory video guides there's really never been a better time to get into making your own levels!
I hope you guys have a lovely weekend and continue to look after yourselves and each other. See you next time!