Community Maps Spotlight #7
posted on
Happy Friday everyone!
Before we get started, those of you in Japan may be pleased to hear that Wargroove will be at this year's BitSummit in Kyoto on 1st – 2nd June. You'll find Wargroove (and Stardew Valley!) at Nintendo's Indie World stand, so do pop by and play if you're going to the show.
While this Maps Spotlight had no theme requirements, next time we'd like to set another map design challenge! As many of you know, we're soon to be launching Starbound's 1.4 update, where players will be able to take on the role of an intergalactic bounty hunter. Since Wargroove's Floran (as well as our quick-witted Commander Nuru) originally appeared as a playable race in Starbound, what better way to celebrate the upcoming 1.4 update than to create some luscious forest biome themed maps, with maybe even a bonus cutscene featuring the Floran Tribes or Nuru in particular!
To make sure we spot your map when we come to selecting the Community Maps Spotlight #8, make sure to post your creation to the Wargroove subreddit using the 'maps' flair, or drop them in the Custom Content channel on the Wargroove Discord before June 14th (you get an extra week this time while I'm away).
Now, on with the maps!
1. Legend of the Mirror Pool by Lyle – Code: X5TNNX22
We've been sharing a lot of competitive multiplayer maps lately, so here's a cool single player campaign worth checking out! Lyle has created a fun, non-linear Commander collect-a-thon, which follows the story of Mercia and Emeric's quest in search of the fabled mirror pool. Legend has it that the pool makes copies of whoever stands before it, so you guessed it, you're in for a battle against your reflection! To help you on your quest you'll need to get help from other ally Commanders, who you can recruit along the way to build the ultimate party. A lot of hard work has gone into each level, so give it a go!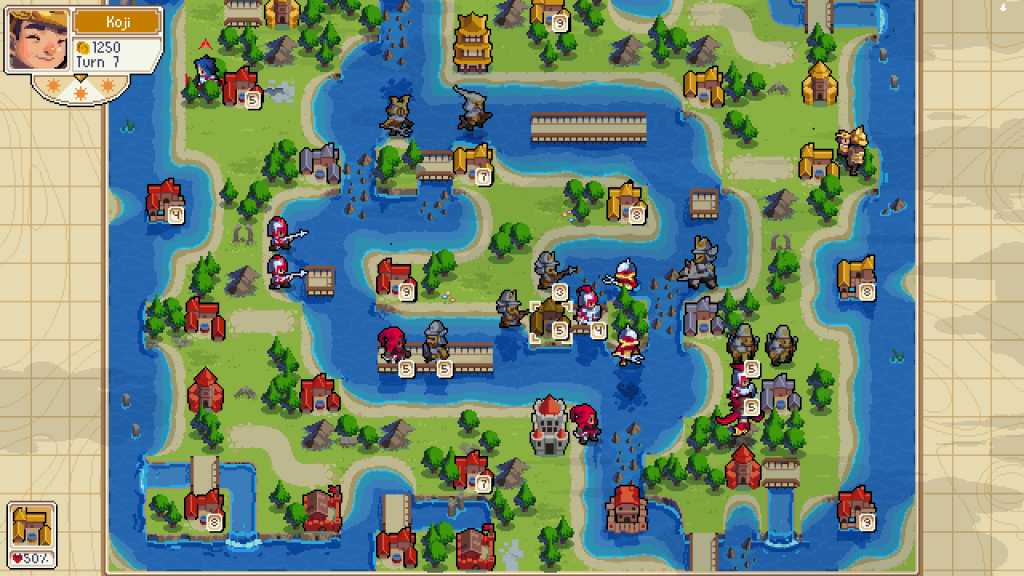 2.  After the Flood by Fadedsun – Code: UPGQELWP
Fadedsun is on a bit of a roll. Last time we featured their Port Island Panic map, but we're equally impressed with this well-executed 1v1 competitive skirmish. Having the terrain split up with swathes of water tiles, and the odd floating bridge adds an interesting dynamic to the battlefield, making you consider your unit movement and best route carefully, using amphibian and flying units to your advantage to move more freely.
3. Burning Sands v2 by Kodama – Code: AML3DSB2
If you have a few friends over (3 to be exact) and are looking for an awesome 4 player scenario map to challenge one another at, this one is absolutely delightful. Burning Sands splits you into 2 teams for a good ol' fashioned desert brawl. Each day you'll take damage from having units placed on the harsh desert sand, whereas finding shelter in the cool oasis water dotted around will heal you instead. The aim is to wipe out all enemy units, not just the opposing Commanders. There's also a rather handy Commander-reviving mountain to the centre which you might need to scramble quickly for.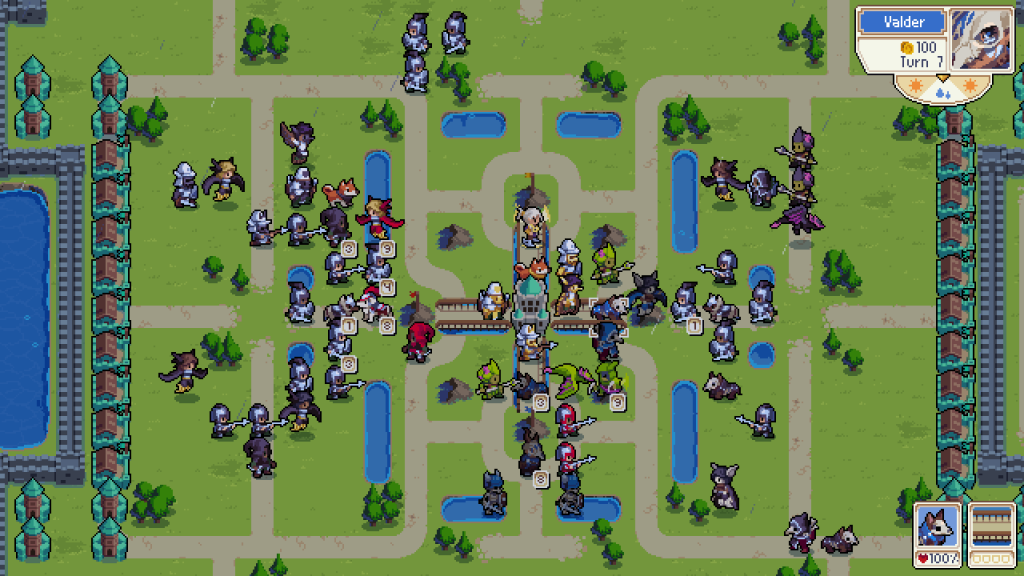 4. Groovehold – Team Defense by RibbonPen – Code: S69EU6UD
If destroying waves of enemies is your jam, grab 3 friends and team up to take on Groovehold, a great 4 player team defence scenario. Player 1 sets the number of waves (5x waves is a 'short match'), and jump straight into the phases, looping between Recruitment, where players each have 1250 gold to spend to bolster ally ranks, and then the Battle phase, where you'll take on hordes of AI outlaws. To win you and your allied Commanders will need to survive each wave, and keep your Stronghold safe and sound!
That's about it for now. As always, we look forward to seeing what wonders you create for your forest biome / Floran themed maps, so be sure to share your map or campaign before June 14th. If you're looking for even more community maps, or want to create and share your own strategic masterpieces, you can find them in-game in the Custom Content section, as well as a great selection on the Wargroove subreddit! Until next time.